Many current BIPOC leaders interviewed said they are tired and traumatized after having taken on multiple roles to address the harmful effects of racism in the health system. Many leaders feel undermined and attacked when they pressure the system, and lament the lack of support from white colleagues. 
"We need to be mindful of putting the onus of dismantling structural racism on the victims of racism. This will require white people within the health system to exhibit commitment and leadership in this work," one leader said.
Another leader added: "BIPOC have been working on racial identity for a long time. I think white folks have been able to be very neutral and silent and that's a problem."
One physician, who has also led equity training said, "White people don't want to feel it deep. I think it's hard for them to hold, to take the heat. But, it's your turn. I don't know what I would do if I found out that my entire lineage of people had created the thing where they harm and murder Black and Indigenous people. I am sure that it is deeply complicated, and I don't want to put in the labor to figure it out."
A longtime leader in the movement for health equity observed: "The work has fallen on so few for so long. They need rest. The people who have been in this work longest need to be able to tap out for a minute for their own well-being, They have made personal and professional sacrifices. Many people have said to me, 'You are ruining your career by focusing on race and racism.' These are from people I admire and who are often speaking from experience of their own careers harmed by this focus."
Many shared that the healthcare system is a hostile work environment for Black, Indigenous, and people of color—a space where professionals are regularly questioned, judged, ignored, and harassed.
"There is a need to address the overall culture of healthcare that is not welcoming to people of color," one leader shared, "or how often people of color need to change themselves to be a part of these systems."
Another leader said: "It was always hard to hold the ways in which [medical environments] wanted me to problematize other Black people. So many Black providers struggle to be within healthcare because you are taught to police, and to dictate to, and to devalue the humanity of Black and brown and Indigenous people. It's baked inside of healthcare."
Some leaders described how receiving recognition outside of their systems has proved important. One researcher said, "Scholars, clinicians, and leaders engaged in work to dismantle institutional racism are often marginalized within their institutions. The pushback is constant. Field-level recognition or participation in leadership fellowships which legitimize these leaders' work sends important signals to their own institutions (and to other institutions) and also can provide cover, protection, support, and funding, particularly for leaders early on in their careers."
A shared question emerged around how to expand support for BIPOC leaders and engage White partners as co-leaders in dismantling structural racism. Some spoke to the deep interpersonal work this will require across the health system and beyond.
One leader said, "As a scholar and undergrad, doing African American studies, we always spoke of racism as something that was outside of Blackness; that white people were racist. There was not a coming together around the system and the structure of racism. I've learned that the more I can talk about my own journey of unlearning the racism that I believed about my own self [as a Black woman]—the things that I was taught in medical school and understood about the biological nature of race—how I'm unlearning those things as a Black person is helpful. We're all on a journey together; it generally works to be humble about your own journey and not blaming and shaming other people for not being where you are."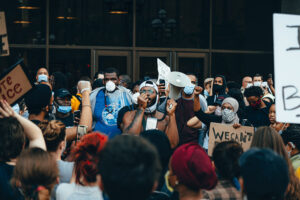 Another leader put it this way: "People of color understand white society. We've had to navigate white spaces to survive. Many white [healthcare] providers have very limited life experience with people of color. We don't know each other. We need to help people understand the humanity of each other. Without [that], providers are set on a path to view and treat people differently."
These are the views of health leaders who participated in an 8-month project to analyze structural racism across the U.S. health system and provide recommendations for the collective leadership required to dismantle it.